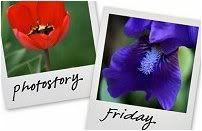 Hosted by Cecily and MamaGeek
Yesterday, I went with my sister to try to get some good fall pictures of her family and my kids. We drove out to where she had seen some awesome fall colors a few days previously.
We started our little photo shoot and were able to get some cute shots. The ones she took of her kids were absolutely gorgeous! My kids weren't cooperating so much. I had been on the run most of the day and had some very tired little girls!
Anyway, back to the story. After about 45 minutes or so of taking all kinds of pictures, my niece starts screaming. Not even 10 seconds later Joshua starts screaming. Only seconds later I see a bee on my sisters arm and realize we are under attack! Everyone starts running back towards the cars, swatting at bees as we go. In the minute it took us to get back by our cars, we had 8 stings! And a lot of hysterical kids! For my family the casualties were Joshua and Ellie. Joshua had been stung almost right between his eyebrows. Ellie had two, one on her eyebrow and one on the side of her face. It was crazy! They seriously came out of nowhere and just attacked us!
This morning Joshua got out of bed and his face was all swollen up and he was nauseous.
He came to me and said, "Mom, I am very sad." I asked him why and he told me, "because I just looked in the mirror and I don't look like me anymore."
I had no idea he was allergic to bees, or that a reaction would happen a day later. After a dose of benadryl and a trip to the doctor, I am now equipped with an epipen. And I hope with all my heart I never have to use it!