When we bought our house 4 years ago, it was what you would call a fixer upper. It was completely trashed! It was nasty, disgusting, foul. We spent 3 months working on it--cleaning and remodeling--before we even moved in. We had to remove a few walls, completely redo electric work and some plumbing, build a pantry, and of course paint.We also put in all new flooring, doors, light fixtures, and kitchen cupboards and counter tops. We also put a salon in the basement for me. It was a whole lot of work and we spent hours and hours every day working on it. (Thanks be to my family and to Matt's dad for helping us get it done!)

The rooms that were totally neglected in the whole process were the bathrooms. We ran out of funds and just weren't able to do them. Well, this year, I was able to do the main bathroom. Yeah!

Just a little background for you, I am very much a do-it-yourselfer. I hate paying someone any amount of money for something that I think I could do myself. I was raised that way. My dad was the fixer of things around our house. And if he couldn't figure something out, Grandpa was called in. I was also raised to not be afraid to get my hands dirty. In our house, it wasn't just the boys who were mowing the lawn, or helping with car repair. The oldest 3 kids were girls, and we helped with all kinds of projects. Just a few weeks ago we were helping my dad build his huge garage shed. And me and my sisters were just as involved as my brothers.

I like learning to do new things. And being involved, whether the task is big or small. I love the satisfaction of knowing I did something myself (or with help, but without "professional" help). When I look around my house, I see the handiwork of myself, my husband, and various family members. And I think for the most part, we did a dang good job.

Okay, enough rambling. Here are the befores. I know you will all love the pink!


Wasn't she lovely?!
Here are the afters:

I love how it turned out! And I love having an all new bathroom. Matt did all the demo. And with the help of his dad, the electric and plumbing got done.
Who did all that beautiful tile work, you ask? That would be me. Yep, all by myself. And I'm just a little proud.
I have a little bit of advice for any of you that might be using a tile saw in the near future:
1. Stand to the side of it unless you want your shirt to be completely soaked!
2. Safety goggles are a good thing! Especially if you end up needing to use a grinder.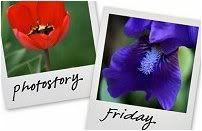 Hosted by Cecily and MamaGeek