It's hard to believe that my kids are growing up. Hard to believe that my first little baby is eight!! My sweet, shy, heart of liquid gold, Parson turned eight on Saturday.

We celebrated with his friends and had a Star Wars party. It was a lot of fun! We played a few Star Wars games. I think the highlight of the party was making lightsabers for all of the kids. With the help of my friend Google, I found this awesome, easy, and even cheap way to make personalized lightsabers for each of the kids.



I made him a Star Wars cake. I know I am no professional (by any stretch of the word!) but I have to say, it turned out SO much better than last year's cake. And he thought it was cool, so that's what matters.



Later we celebrated with family. We had a pizza party. For this party cake, I decided to make a trifle. It was my first ever attempt, and it was awesome. It was easy, and everyone LOVED it! I think I will definitely be making it again. Especially for feeding a large group. I found it on my Betty Crocker ipod app. I just made it in my punch bowl and it was perfect.



All in all, we had an AWESOME day! Thanks everyone!

Happy Birthday Parson, I love you!!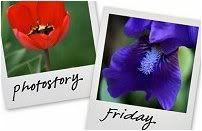 Hosted by Cecily and MamaGeek