This month marked the one year anniversary to our dream vacation to Hawaii. Are you jealous? That I got to go to Hawaii? Well then, you probably haven't heard the whole story!

As I already mentioned, we went to Maui last December. It just so happened that a storm vacationed there the same week. I'm talking the biggest storm Hawaii has seen in over 50 years! Still jealous?

It rained and rained and rained. There were more than 60 mph winds in some areas. The schools were closed. The power was out. All of the traffic lights were down, which means traffic was a nightmare. We managed to find one supermarket that was actually open, where we were able to buy some food and a few candles (flashlights were sold out!)

Stupid tourists.
The day after Hana, the rain had stopped. We decided we would try to find an open beach where we could try body boarding. We did find one and we pretty much had it all to ourselves. We had fun playing and body boarding. My brother went down the beach a bit to see if he could find any good snorkeling spots. He ended up getting slammed into a coral and cutting his foot wide open. Off to the ER with him. His Pauly Shore lookalike doctor wanted to know why the heck he was in the water!
Stupid tourists.
At one point in the trip, my brother tried to take us to his favorite snorkel spot. Wouldn't you know it, the whole area was closed due to an old World War II bomb that was found and never detinated. What are the odds, seriously?
We had prepaid to go on a boat out to Molokini Crater. This is supposed to be one of the best snorkeling sites ever. Our first few tries they cancelled it all together. On our last day we could possibly go, they said they would take us. We went and this was my very first snorkeling experience ever. I saw some octopuses and lots of fish. I really liked it. I thought it was so cool! Apparently, it wasn't. I guess it was really bad, in fact. So bad that they refunded our money. Guess I didn't know what I was missing...
We did have one more mishap. We stayed in a condo amongst hundreds of condos. It just so happened that some lady had trouble with her unattended washing maching and her unit and the two below hers flooded. Could our luck get any worse? Yep, 3 condos out of hundreds, and 2 of them were ours (not the one with the washing machine, though!)
You are all wishing you could come on vacation with us right about now, huh?!
We did have a lot of fun, too. We did some great shopping. We went to a show in Lahaina and it was awesome! It was called "Warren and Anabelle's Magic" and I highly recommend it if you're ever in the area. The magic was awesome, but so was the comedy. I laughed the whole time! I will totally go to it again when I go back.
We actually flew to Oahu for the last few days of our trip and there we were able to go to the temple, the Polynesian Cultural Center and a Luai. We also did a shark excursion where we went out in the ocean and got into one of those big metal cages. That was awesome. I am deathly afraid of sharks and it was crazy! There were
sharks
everywhere!!
Oh, the memories. Wow, this ended up being a long post. Is anyone still with me?
Meanwhile back at the ranch, or rather back at my house, things did not go well. I had my sister in law babysit my kids. Her week was filled with chaos and puke. You can read her side of the story
here
and
here
.
Want to play along?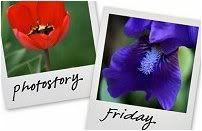 Hosted by Cecily and MamaGeek